I'm just going to go ahead and say it right up front – this is a wonderful album.
It's a shame (not for us listeners) that stand out, emotional, deep works of art are very often born out of personal tragedy. In this case Brian Christinzio's messy breakup with his long term fiancé. But we know this right? From the romantic poets, classic authors, and the great composers, to The Smiths, Nick Drake and Jackson C. Frank, loss, heartbreak, or a troubled mind can lead to a tour de force.
Not that Christinzio wasn't troubled before this breakup. From an unconventional childhood (I grew up in a haunted house in New Jersey. I was raised by ghosts. This is how I choose to remember it anyway.) to lengthy bouts of depression and struggles with drugs and alcohol, he ended up moving to the UK in 2012 which , he says, saved his life. He told The Guardian in 2015 "I can't overstate how bad my life in Philly had gotten" and he meant it – alone, living in an abandoned church and on a self destructive streak, he thought he wouldn't make it out alive.
In Manchester, Christinzio managed to resurrect his music career and signed to Brighton based Bella Union a couple of years after the move. People started to take notice. He enjoyed increased exposure and reached many more listeners than he had ever done in the USA.
So, the healing process had begun, and largely down to his talent and serendipitous move to Manchester, but also the product of a jealous mind and the total belief in his ability drove him ever onwards. He said, when some of his old band mates went on to form War On Drugs, "I started thinking, 'Christ, I can't let them have all the fun'"
Whether success, maturity or both are to blame, Brian Christinzio has learned how to cope with his darker side, and even learned how to accept it and use it for greatness. Even with the breakup from his fiancé, devastated though he was, he still managed to talk and joke about it in interviews and, more importantly, tap into the pain to help make this album what it is.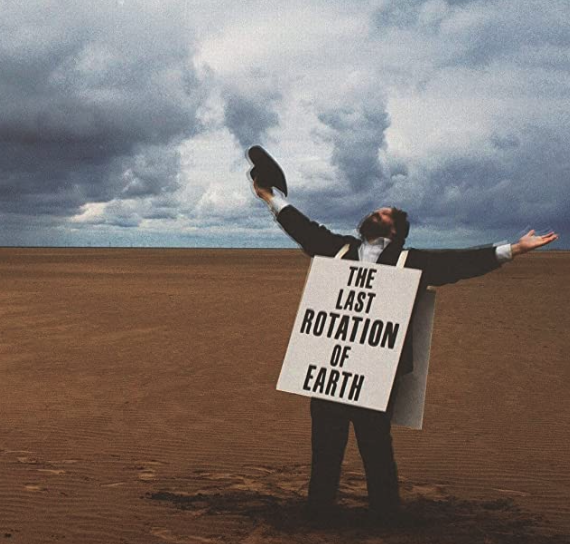 The title track comes first on the album, and it's fair to say it's a melancholy start, although you'd be forgiven for missing the tone with the percussion and piano introduction which is almost upbeat. It's only when the vocals start, both lyrically and in tonal quality, that you perceive the underlying emotion. Whether he's talking to the kitchen floor, the birdie that checks on him from time to time, or the guy in Tescos, you get a sense he's not ok, although he's ok with not being ok. However , waiting for The Last Rotation of Earth suggests, maybe, otherwise. It's an ambiguous song, but the middle eight gives the impression of somebody on the verge of drowning in despair, but getting stronger every day.
Being ok with not being ok continues in The Movie – a song broken up into Acts like a film complete with scene descriptions and stage direction. Very obviously an account of the breakup, it is again ambiguous only in the sense that it's quite humorous, almost whimsical, yet with a heartbreaking subject matter. "I was trying to stay, I was trying to stay! You were planning to leave (planning to leave)" Anybody that has been through a breakup will empathise with the dialogue back and forth – and it ends with the single sentence "Again I'm stranded".
It Never Rains In Manchester contains one of my favourite lines on the album "It was terrifying, but ultimately safe, like a butterfly on your neck" which is just perfect. Again we have humour and darkness combined, the message is that to say you'll never break my heart is like saying it never rains in Manchester, which, of course, it does and, of course, you will. But there is a tounge-in-cheekness here that is admirable.
Kicking Up A Fuss feels like an 80s classic, if you've ever heard The Headboys then you'll probably agree this track is very reminiscent, and it very much continues the theme which by now is what you know you are going to get on this album, upbeat sadness.
She's Gone Cold made me cry. Musically excellent again but very moving lyrics and the perfect tempo. It's the one track I played several times whilst writing this, and it gets better each time. I don't think BC blames anybody else for the breakup other than himself, but it's very hard not to feel sorry for him, which is probably unfair.
Fear:Life In A Dozen Years marks a slight change in atmosphere, definitely more morose, leading up to Going Out On A Low Note which is I think the most reflective, an internal monologue describing and coming to terms with depression.
And just when you think that Going Out On A Low Note is obviously preparing us for the final tracks, we go upbeat again with I'm Ugly – upbeat in tempo and melody, I should say, not in lyrics. Constantly repeating that's the way I am, that's the way I'm put together with lines like "And my mirror is afraid to tell me the truth That I'm ugly, but so are you."
We end with a short, 2 minute instrumental which is needed I think to gather your thoughts. In it's own right The Mourning is a very moving piece of moving, but as the footnote to what we have just gone through it is what sends us off into the night after the performance.
This is an incredibly honest and self deprecating album and an instant classic to my mind. I am tempted to say you need to be in a good place to listen to this, as it's very emotional. But good place or not, it will remind you of 'that' breakup we have all been through at some stage in our lives, and that's what makes this record so instantly relatable.
I am also left rooting for Brian Christinzio, and I hope he continues to heal.