I grew up not very far from Blackwood, home of the Manics, and I remember much talk of the band as a teenager amongst my mates. Some had seen them in early gigs in Blackwood itself, some in other South Wales valley towns, and I am reliably told I was in Bargoed or Blackwood somewhere in a pub with the Manics playing – I really wish I could remember more than just the vague recollection, but there we are. I blame the beer.
Suffice to say I have been a fan ever since the 90s, and when I saw The Ultra Vivid Lament released last year I bought it without even listening to it. This version is the limited edition yellow vinyl 180g pressing, and they also released a standard 180g LP, a picture disc and a cassette, as well as a CD.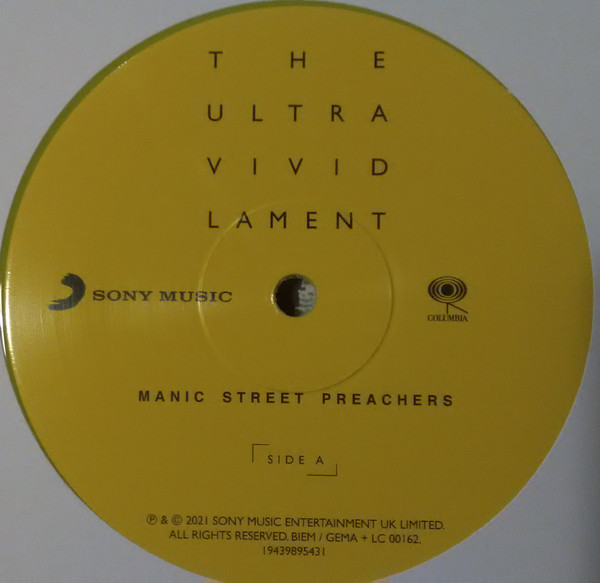 The first thing to mention is this was written after Nicky Wire lost both of his parents just before the pandemic, and continuing into lockdown the album, or at least its lyrics, reflects sadness, insecurities and loneliness. The loneliness of being an orphan is real even well into middle age. Been there myself. But more than that it makes you reflect on and see the world altogether differently, probably due to the heightened sense of your own mortality.
Still Snowing in Sapporo is a nostalgic, and poignant song about the band's 1993 tour of Japan, a time when they were probably at their most confident and indestructible, feeling like they were walking around ten feet tall, to borrow a line from XTC. It's unmistakable Manics, but only really makes the hairs stand up when you listen carefully to the lyrics. "How could four become so strong, yet break and leave too soon, too soon" referring, of course, to the disappearance of Richey Edwards in 1995.
My favourite of the album, Orwellian, surprises with a Keane-esque piano opening. The album theme then seems to be jolly, almost pop song jolly, with troubling messages. "Everywhere you look, everywhere you turn, the future fights the past, the books begin to burn." That theme continues with The Secret He Had Missed with the addition by way of call and response of Julia Cumming is a stroke of genius.
Quest For Ancient Colour starts with "I had a very bad dream, the main actor in it was me" and talks about losing focus and confidence in the modern world.
Diapause is the first track where the music matches the mood. Even then, it may be a dirge but it's an upbeat one, and the chorus lifts it up in true Manics chorus fashion.
I don't know if this album would appeal to first-time listeners of Manic Street Preachers, it's difficult to listen without remembering the past, but I suspect it may not. As an album in its own right it is very listenable to and you could be mistaken for thinking it is a fairly generic pop LP. It does, I think, need prior knowledge of the nuances of both the songwriting and the delivery, and a dedication to reading the lyrics along to the music.
But, from one who has listened to them for around 30 years, it is an essential Manics album, and gets better the more times it is listened to as all good albums should do. One thing that time hasn't diminished is the quality of songwriting and musicianship of this band, even if it has affected their minds and moods. It does to us all I guess.
PS – as a footnote, the demos included on disc 2 of the deluxe edition CD are brilliant and almost worth a review in themselves (see the review of Scoop for more on my love of demos!)