I have been meaning to write up the notes I had on this mini album for quite some time. I love small run, self funded indie releases like this, and this one caught my imagination as it was a relatively late Mod Revival release that I hadn't come across before, in a box of completely unrelated vinyl I got from a collector in around 2010. I say 'self funded' but more on that later!
I managed to catch up with lyricist Kurt Fricker online in 2018, with a view to showcasing the album on the then revamped Revival Records site, but stupidly lost the notes until recently.
Kurt told me he was involved with organising the CCI Mod Rallies with Tony Class in the late 80's and 90s and booked the bands for the later rallies. He also had some limited involvement with arranging the Mods Mayday 1999 at the Scala.
Returning to how the album was funded, I'll quote Kurt's words that he wrote to me directly.
We recorded the album at the Kitchen Recording Studio in Norwich. The 3 members of the band were all Mods with Andrew "Hej" Jones and Stuart Coward childhood friends, originally from Devon but moved to Norwich, and Andrew Spooner from Newmarket. We paid for the recording on the basis of costs being paid by Mark Johnson's Unicorn Records from sales. We never did see a penny, and he even had the cheek to take me to court for payment for the 50 copies we had. He didn't turn up at court and it was thrown out.

Kurt Fricker, 2018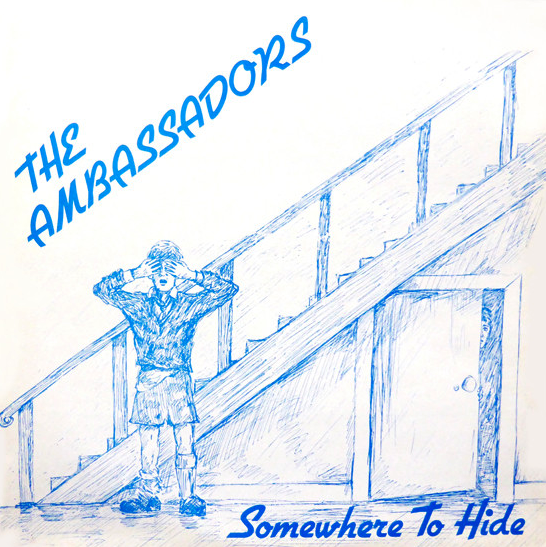 It was also Kurt's idea to have the tracks duplicated on both sides rather than just split them 3/2 or 2/3 – this just seemed better logic as the cost would be the same so why not have, as the album sleeve notes say, a 'scratch one track, get one free' policy!
The album features 5 tracks in total. Released on Unicorn Records with catalogue number PHZA-12 in 1987. So let's get into it.
If you weren't sure at first which genre this album fitted into, the first track Who Cried Wolf would leave you in no doubt. Immediate Mod Revival drum rolls and The Chords like chords and riffs, and, I think, a wonderful quality to the vocals that gave it a live performance feeling with studio quality accompaniment. A great combination. Kurt told me he thought the band could have done with another vocalist to complete the sound, but I like the 'home made' naivety of how it comes across on this record. He also said that Hej and Stu were musically precocious and could play pretty much any instrument, and that definitely comes across. I don't think they would have been out of place in any of the mod bands around this time, and earlier.
City Streets follows and is introduced with an electric guitar melody before it hits it's stride with what reminds me of a more clinical The Jam track, less rawness and power maybe, but definitely reminiscent. And again the vocals that don't seem to hit the high notes, and I don't mean that in a bad way at all. The vocals, in my opinion, are what makes this album so evocative.
Rag Doll carries on with obvious influences, including The Lambrettas which is clear in the intro. Every mod revival band had contemporary and historical influences running right through them, almost impossible not to, so this is no bad thing.
The eponymous Somewhere To Hide comes next and is more of the same, Jam influenced riffs and harmonies, thankfully! And they manage to squeeze a trumpet in here too.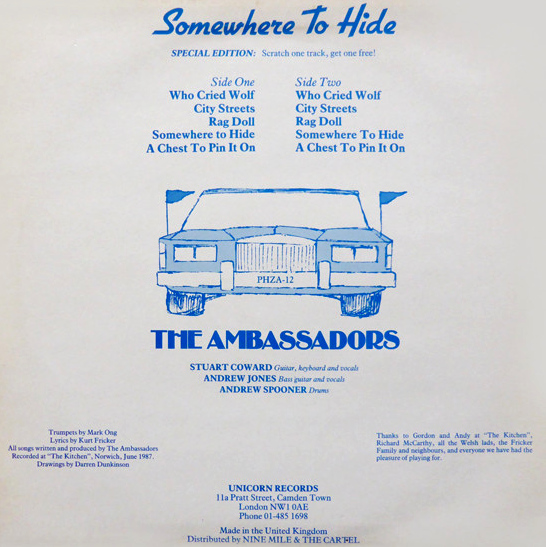 All tracks so far have been a shade over the 3 minute mark. A Chest To Pin it On stretches to almost 4 minutes and starts off with the trumpet playing the last post, a clue to the military theme of the song. This is the best track on the album. Excellently crafted and perhaps, if I am being critical, the one track where stronger vocals would have helped it. As a song it stands up to anything at the time and could have done really well as a single.
The Ambassadors played a few mod rallies such as Lowestoft, Shanklin IOW and other gigs around and about, but probably the high point playing live was being on the bill one new years eve at the Okie Dokie club in Dusseldorf in 1986. Kurt told me they took 2 coaches with about 100 people to the event, and by all accounts it was a great night. Kurt also remembers some great nights down in South Wales where his friend Richard McCarthy put the band on a number of times at the Central Hotel, Cardiff.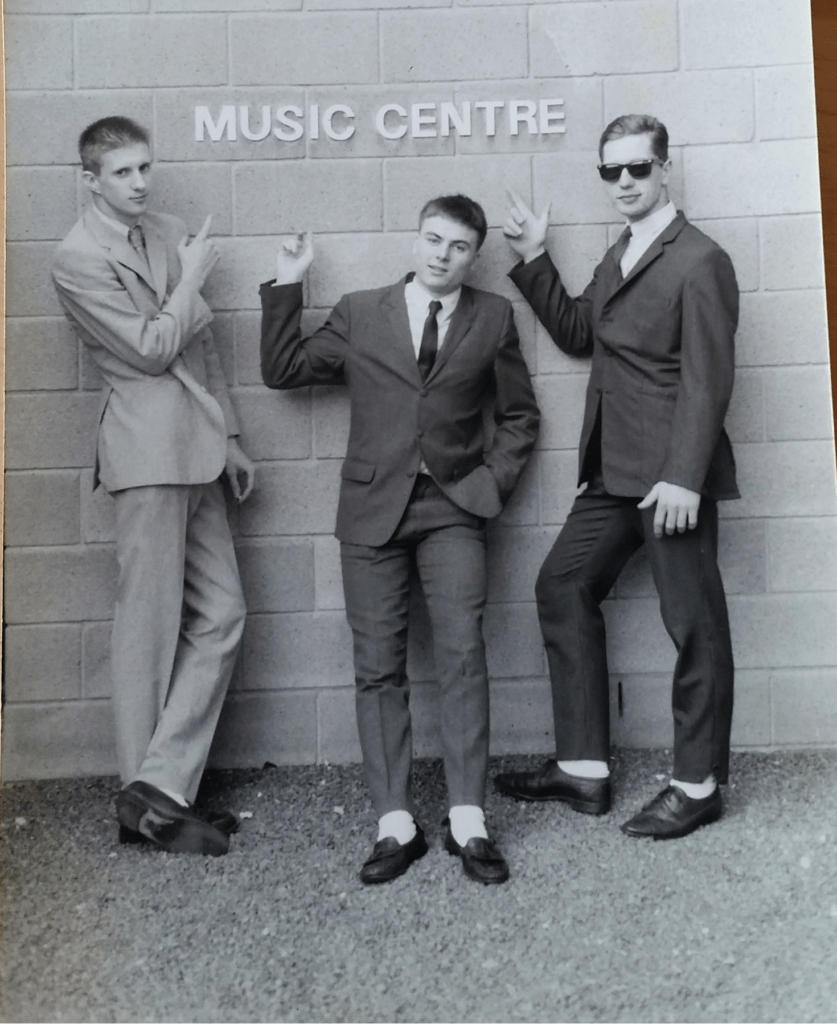 If you are at all interested in powerpop, new wave and adjacent or, of course, mod revival music from the 80s then this album is well worth seeking out. I will make you a Revival Records promise that it's a grower and will become one of your favourite listens. If you are not necessarily into this type of music, listen to it anyway. It has charm and nostalgia in buckets.
My mission now is to find the long lost Ambassadors cassette.
We also recorded a cassette "Siege at the Embassy" I think it had 4 tracks from memory …. Only thing I remember about it other than the sleeve with the Iranian embassy siege picture on it was a track called "Steve Hall"  my own personal David Watts/Billy Hunt number. We also recorded a cover of the Cracks "Don't you ever let me Down" for one of Piller's compilations.

Kurt Fricker, 2018
I am very grateful for the time Kurt took to reminisce and write down his memories. I hope this has been of interest to others and if I can help spread the love about releases like this then my work, I feel, is done.
I leave you with the fantastic A Chest To Pin It On….thanks for reading.