Anyone who has read any of the reviews here will know I like my mod revival music. A much maligned and underrated period of British music. Punk energy with 60s mod influences combined with Northern Soul, Ska and of course the classics like The Who and The Kinks etc.
The 101 Club in Clapham, South London, was a hugely popular and influential venue for music in the 70s and 80s and a lot of popular mod revival and other up and coming bands found their way on to the stage here. Alas, as can be seen below, it has long since closed down.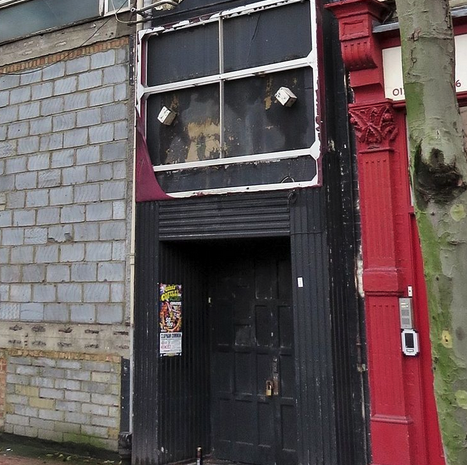 It was the inclusion of The VIPs and The Scene on this compilation from 101 Records that first attracted me in a charity shop around 4 years ago, and I thought it was well worth a gamble. 101 Records released several compilations of bands that were regulars at the 101, most of them live and this one studio recorded. Bands such as Bad Manners, The Beat, Killing Joke, 9 Below Zero (another late mod revival band) all played here during this time, as well as future big names such as U2 in 1979.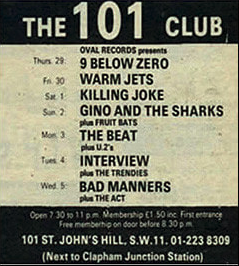 The 101 Club featured mainly up and coming bands, and it was seen as a springboard for publicity and potential record label attention. This album features 12 bands of that time all touted for greater things, some of whom went on to be household names, and others less so.
We start off with The Scene and All People Go Mad. A valiant effort at a late Ska based soul track with hints of Sam & Dave type brass and rhythm, but it's all too safe and clean and doesn't quite hit the mark. It's a pleasant enough start and there is nothing wrong with it as such, but I have a long held belief that the first track of an album really influences the rest of the music. First impressions and all that, although perhaps with compilations this is less important.
That said, I wish The Hit Men had been placed first with She's All Mine. I love this track. It actually reminds me of XTC a little, maybe crossed with The Boomtown Rats, but the vocals are really interesting if very 'of their time' – more new wave than mod revival although you can here the mod scene trying to get in around the edges.
Next up we have The V.I.P's and it's one I knew before hearing it on this record. It's arguably their best release, Causing Complications, and was featured of a film by the same name in 1978. Some people list this under power pop or new wave but I know a good many mods of the late 70s early 80s listened to this band – I'd place it firmly in the mod revival genre. Although there is no denying the Madness influence running through it, the chorus is firmly out of the mod revival song book.
Yap Yap Yap by The Piranhas follows. The Piranhas caught the attention of John Peel and actually recorded one of his legendary sessions, and it's as much as slice of 1980 as you could hope for, really epitomising the time. Real to Real comes next with White Man Reggae which starts promisingly but I don't think really gets going. Although it's classed as reggae I'd say it's barely so, even if the drummer is trying his very best.
The side closes out with the wonderfully named Holly And The Italians, with a cover of Chapel of Love. I have nothing much to say about a cover of Chapel of Love, but seems like a wasted opportunity to include something better by the band.
Side two starts with the Roxy-Music-A-Likies Electric Eels. In fact if Bryan Ferry was the vocalist here it would fit right in to any early Roxy LP. Thoroughly Modern sounds unlike anything else we have heard so far on this compilation, and good enough it makes you want to hear what else the band has done. The answer to that, however, is not a lot. Shame.
Catch Cool by the even better named Jane Kennaway & Strange Behaviour is the best track so far. It really stands out and sounds like a Brit Pop track a decade and a half before the movement was a twinkle in Daman Albarn's eye. Kennaway went on to release a number of tracks in the 80s produced by Thomas Dolby and the great Steve Lillywhite among others.
Next up is Thompson Twins, 101 Club regulars before they were 'properly' famous. Squares And Triangles is very obviously a mod revival influenced track, arguably the most typical on the album, and shows the band were flirting with the genre in their early days.
Huang Chung, later known as Wang Chung, are possibly the most prolific here after Thompson Twins, releasing music as late as 2019, and they featured on many of 101 Records live sets, frequently showcased in the club in those days. This studio track lacks a little of the energy of their live stuff but still a decent record.
Another regular appearing band is Comsat Angels, a post punk band who went right on until 1995. If you know The Headboys from around the same time then you'd immediately be at home with the Angels, but it also sounds uncannily like a Lambrettas track. I'd say Independence Day is my recommended favourite from the whole album though.
We finish off with Wasted Youth and Jealousy. A short lived but quite successful band, you can hear potential in this track, but it's hard to get past the spoken verse even if the chorus is really good.
So the album finishes slightly flat, as it began, but there are some good tracks on this LP, and historically it conjures up the optimism and excitement of a time when bands and managers worked hard to stand out and be noticed. Clubs like the 101 became less important as time went on, and I can't help feeling we have lost something when R&R is fairly non existent and it's whoever masters social media now who has the best chance of success.
Overall, I really like this 101 Records compilation, and I will be collecting them all over time, as I think it's important to keep the memory of the 101 Club alive!