Forget Come On Eileen and Too-Rye-Ay, forget dungarees and floppy hair. Dexys Midnight Runners underrated classic is a raw, lyrically brilliant, musically innovative masterpiece, and a debut album that deserves wider recognition and acclaim.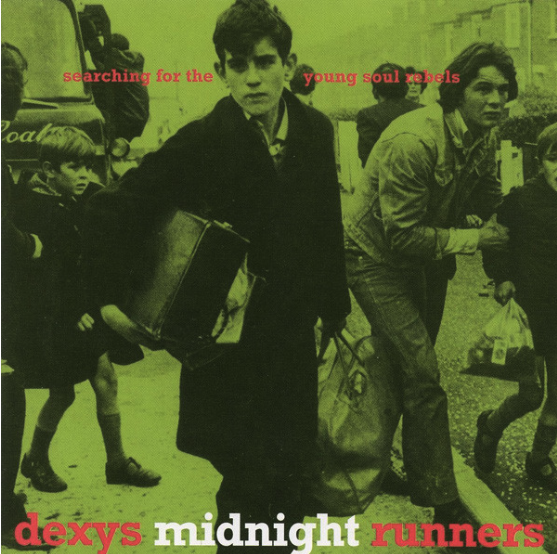 Following the break up of Kevin Rowlands Killjoys in the late 70s, an ad was put in Melody Maker looking for band members to join a new group that had a "brassy sound but kept the aggression and immediacy that punk rock had". Early members included Mick Talbot and Seb Shelton, both influential in the Mod revival scene of the 70s and 80s (Merton Parkas and Secret Affair respectively). The soul-driven element of the mod scene, which sometimes overlapped with the Northern Soul phenomena that came out of Northern England, can be heard throughout this album, with of course obvious references to the Wigan Casino regulars such as Geno Washington. Searching is definitely more soul though than mod revival, yet aggressive and relevant, keeping the anger and frustration of punk alive. No mean feat!
Surprising then that Dexys slipped so quickly into mainstream comfort after their impressive debut. Surprising and a bit sad, as they never quite captured the angry young man vibe again, and subsequent music ceased being relevant to the young soul rebels of their audience.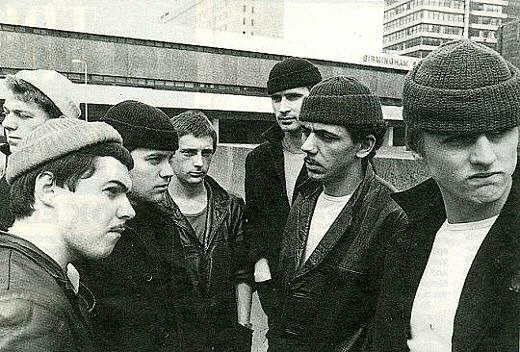 It's this mixture of soul and anger that makes Searching the classic it is. The listener is greeted on side one with garbled radio, with somebody tuning through stations trying to find something meaningful before somebody shouts the introduction to Burn It Down, and the brass kicks in. It's a brilliant start. Burn It Down was actually released as a single a year earlier called Dance Stance, a different recording from the album version. It's a little less gritty and a bit slower, but retains much of the (better) album version.
The formula continues, melodic soul brass opens Tell Me When My Light Turns Green and then the edgy vocals. This sounds more desperate and autobiographical, perhaps touching on Rowland's early, troubled life, regularly getting into scrapes. The lyrics touch on manic depression and a sense of being lost, highlighting drinking and gambling and being 'spat on and shat on'. Seems we all go through a stage in early life where we are waiting for that light to go green.
The Teams That Meet in Caffs slows it down with an instrumental that feels a bit like a 45rpm soul classic played at 33rpm. It's a very worthwhile piece of music in its own right and actually adds to the album in a way that other instrumentals often don't. If Searching was a film, Caffs would be what is being played as the band drive down a rainy Birmingham street to the next location.
I'm Just Looking starts with a disturbing whisper and then vocals to the forefront with mainly brass accompanying lyrics again with drug references (the whole album, and indeed the band name, of course, relates to the drug culture of the time). It's a melancholy track but the rasp of the jarring sax maintains the anger and intensity. It's a great introduction to Geno that comes hot on its heels, with the crowd chanting the name of Geno (Washington) before the music crashes in. The riff, if you can have a riff in brass, is one that has gone down in musical history. The way "Back in '68 in a sweaty club" is slurred out with such emotion still makes the hairs stand up on my arms. Geno is a real contender for best track on the album, but I think ultimately loses out to the last track of side 2.
Seven Days Too Long, a Chuck Wood cover and the first track on side 2 has everything – it's a dance song, brass riff, keyboards, melodic with group vocals and still somehow retains angst. Ultimately it's Kevin Rowland's voice that maintains the emotions throughout the album, and this whilst being a love song, where Dexys is concerned it could be construed as a 'dependency' song. Whether that's a dependency on a person or a substance!
The crafting of the album is one of the things that makes it great. Brilliant tempo management, with the next track I Couldn't Help It If I Tried, the perfect filler between Seven Days and the wonderfully titled Thankfully Living In Yorkshire It Doesn't Apply. Another 'best track' contender this one starts with bass (not brass) and drums and then vocals and organ in harmony. It's probably the most whimsical track on the album "Lord have mercy on me, keep me away from Leeds
I've been before, it's not what I'm looking for".
More album management now, bringing the tempo down and then down further, with Keep It leading into a short, mostly spoken word track called Love, Pt. 1 (poem). There is loneliness in this poem, jealousy and anger (that word again) "Sometimes I almost envy the need, but don't see the prize"
And we finish with, as promised, the best track on the album, There There my Dear. An angry rant to 'Robin' – the personification of everything that Rowland saw was wrong with the music industry – deriding Robin's record collection with "I'd only waste three valuable minutes of my life with your insincerity" and calling out his 'anti-fashion' stance and his 'dumb, dumb patriotism'. Ultimately Robin is responsible for the fakeness and hypocrisy of the music industry in Kevin Rowland's eyes.
You'd have to have a later release of the album to hear the album end with Rowland singing just one line of the chorus of the 1969 Lee Dorsey song "Everything I Do Gonh Be Funky (From Now On)". Ironic, because everything the band did from this point on was disappointing when compared to Searching For The Young Soul Rebels.