Audio Japan, re-release 2021
Audio Japan last year released a series of Jazz vinyl with a very distinctive art style, lined paper inner sleeves and obi strip, making these records great candidates for your plug & play vinyl frames!
This one, by Dollar Brand (real name Abdullah Ibrahim, born Adolph Johannes Brand), Anatomy of a South African Village is a live recording from 1965, recorded in Copenhagen. It features some of Ibrahim's earliest work, including the title track. Anatomy was originally written for a full orchestra, but we are given a more compact, cut down piano version of the work with this record.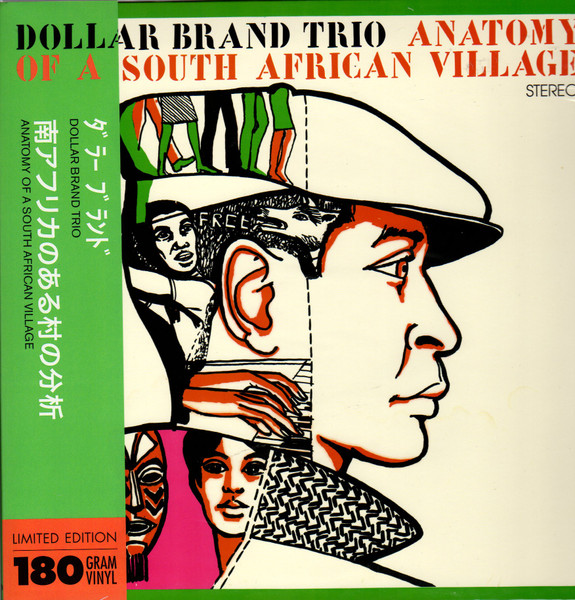 Cut down in complexity and number of instruments only, Anatomy still retains the entire five-part piece of Spring Morning, To Work, Mamma, Portrait Of A Bushman, And Which Way?
Just a shade under 15 minutes, Anatomy starts off with a single piano playing traditional jazz style over the thrumb of mingling voices in the audience. You can almost smell the cigarette smoke. 3 minutes of intro and the piano is then joined by drums, the piano adopting a repetitive beat with discords overlayed, it is quite hypnotic.
When the drums die down we can again hear the audience mumbles, it's hard to know if the jazz is background music for the audience or the audience background atmosphere for the music. Tempo keeps changing up and down, then up again, with almost train like cymbals and percussion, and indeed it does feel like you are travelling in some sense through the music. I think it really comes to life late on in the piece, and if the previous 12 minutes were a journey and an almost soporific rocking to and fro of a train carriage, then the final 3 minutes are when you have finally arrived, grabbed your bags, and are looking forward to whatever or whoever is there to greet you!
After Smoke Gets In Your Eyes, the third piece of Anatomy, Mamma is expanded upon and given its own track. Boulevard East is actually the longest track of the album and is said to be influenced quite heavily by Duke Ellington and Thelonious Monk. It's my favourite track too, with Makaya Ntshoko on drums doing a fine job keeping up with the pulsating piano.
I wouldn't necessarily class myself as a Jazz fan, even though I have a reasonable amount of traditional and classical jazz greats represented in my collection, but this is a record for when the mood is a reflective one. When one wants to enjoy a glass or two of something in front of an open fire. I think it does a wonderful job of transporting you not only through the music but back in time to a mid 60s jazz club, complete with audience.
Nice.